If you want to take your backyard entertaining up a notch, you can't go wrong with an outdoor kitchen. This outdoor space has many benefits, including expanding your living and entertaining space, reducing energy bills during the warmer months, and boosting your home's value.
Sold on adding an outdoor kitchen to your home? Then, it's time to start planning! Use the outdoor kitchen design tips below to get started.
How to Design an Outdoor Kitchen
Choose the Right Location
There's a lot to think about when deciding on the location of your outdoor kitchen. Of course, the size of your backyard and the location of any existing outdoor living spaces will play a significant factor. You also have to consider how you plan to use the space and any other features you want to add, such as a lounge area, bar, or firepit. These things will help you decide on the outdoor kitchen's location, size, and layout.
Decide on the Style
An outdoor kitchen is an extension of your home. To create a cohesive look, the space has to blend well with your home's exterior and landscaping. You can easily carry over exterior elements, such as brick, stone, and wood, into the outdoor kitchen design. 
Select a Grill & Appliances
When it comes to outdoor kitchen design, the grill is the centerpiece. Grills come in various sizes and styles, making it easy to find an option that suits your outdoor kitchen design. For most, a medium size grill (between 27 and 33 inches) is more than enough. However, if you're a grilling guru or love to host large groups of people, a bigger grill might fit your needs better.
You can even incorporate grill add-ons in your outdoor kitchen design, such as:
A vent hood to keep smoke at bay

Side burners that allow you to cook using multiple temperatures

A deep fryer for crispy, delicious fries, fish, and more

Warming drawers to keep your food hot until you're ready to serve it

A griddle for your bacon, eggs, and other favorites

A pizza oven that doubles as a standard oven
As for appliances, it all comes down to your personal preferences. A small fridge keeps food and drinks at hand, saving you from multiple trips inside. A working sink or dishwasher makes cleaning up a breeze. 
Pick Your Cabinets
Cabinets are a critical component of your outdoor kitchen design. They help define the shape and style of the space. When choosing outdoor kitchen cabinets, you have two options: custom or premade. Both have their benefits, but investing in custom cabinets will give you better quality and the exact look you want — both of which are vital to your home's style and value.
Whatever type of cabinets you choose, make sure they are durable and rated for outdoor use. Storage is another important factor. Outdoor kitchens need space for the usual supplies — grilling tools, spices, utensils, tableware — and items like propane tanks and charcoal.
Choose a Countertop
Countertops are just important outdoors as they are indoors. In addition to acting as a workspace, outdoor countertops are exposed to the elements 24/7. So, it goes without saying that you want something that looks great and holds up long-term. The material you choose will likely depend on your budget, style, and needs. Consider tile, wood, metal, or concrete countertops for durable yet affordable options. If you prefer a more high-end look, natural stone is the way to go. 
Add Electrical & Plumbing
Next up, give some thought to your electrical and plumbing needs. Install task and ambient lighting in the outdoor kitchen space so you can enjoy using it well into the evenings. Add outdoor rated outlets around the grill area or inside cabinets for integrated appliances and any other electronics. Plumbing and drainage will also need to be installed for sinks and some appliances.
Add Weather Protection
Minnesota summers are beautiful, but the Midwest is no stranger to rapidly changing weather. Covering part or all of your outdoor kitchen means you can enjoy it through the seasons. A pavilion or pergola are great options because they give you that open, airy feel while providing some protection from the sun and rain. Or, if you prefer to keep it simple — and budget-friendly — a patio umbrella will do the trick!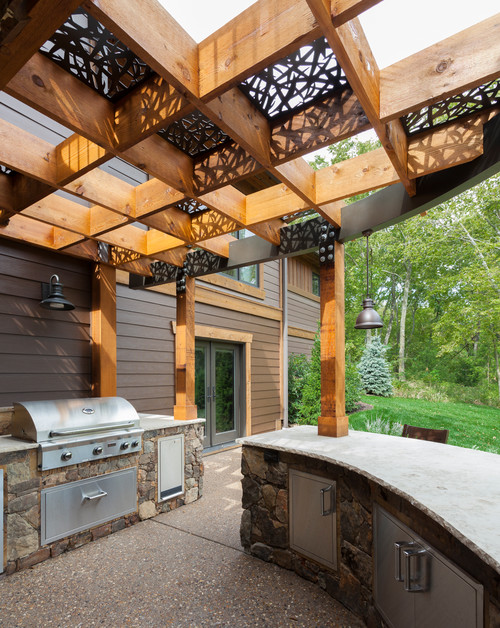 Minnesota's Home Remodeling Expert
Thinking an outdoor kitchen is the right addition to your Minnesota home? You can count on Excel Builders' premium design-build services to get the job done! Give our team a call at (612) 306-4064 or email trent@excelbuildersmn.com to get started.
Excel Builders proudly serves areas in the Greater Chanhassen and Twin Cities West Metro, including Minneapolis, Edina, Carver, Plymouth, Minnetonka, Chaska, Excelsior, Eden Prairie, Wayzata, Shorewood, and nearby.